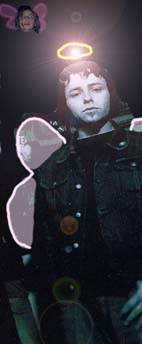 once upon a time, three slightly hyperactive girls were sitting in the back of a car on their way to mardi gras.

to pass the time, they decided to draw pictures.

natz produced a remarkable masterpiece featuring all six members of the cooper temple clause. though, for reasons unknown to all, jon was hovering in the air.

the sensible reaction to this was to draw a halo on his head and make him in to an angel.

half of said six-piece band later saw this drawing, and all commented on the shining hoop above the drummer's head.

jon even said it made him feel 'good'.

on reflection, the girls realised that jon appeared to be a little underappriciated in the band.

a certain keyboard player refused to even say his name, referring to him only as 'our drummer'.

and a particular drunken guitarist had shouted at him in cambridge for daring to make actual bodily contact.

jon was clearly in need of a campaign.

and thus, the 'give jon a halo' notion was formed.

hurrah!
the fact that they toured with a band called halo is completely irrelevant.